The Best Desk Setup For Productivity & Mobility | 13 Helpful Items
Do you often find yourself massaging your neck and shoulders from hours of slouching in front of a screen? Constantly getting distracted by other activities apart from your work? Or even antsy from being stuck in the same position for long periods of time?
If you do, you may not have the best desk setup for productivity or for your health.
As a movie reviewer constantly staring at screens to watch movies and then again to type up movie reviews, I very often found myself in those uncomfortable positions which hindered my productivity and therefore stifled my earning potential.
To maximize your income while minimizing the bodily strain of a sedentary lifestyle, it's important to create the best desk setup for your work that also allows you to be highly productive and mobile. And you don't even need a lot of space or money to make this happen!
In this article, I'm going to cover the important elements behind creating the best desk setup for yourself using my own desk as an example. I had a blast creating my productivity desk setup and hope I can offer some tips and ideas to help you curate your space for optimal productivity and mobility.
---
This page contains affiliate links which means that I will receive a commission if you choose to purchase through the link at no additional cost to you. Please read the full disclosure for more information.
---
Building the Best Desk Setup for Yourself…
An optimized office desk setup does 3 main things:
Improves your health/wellness
Increases your productivity
Creates more work enjoyment/satisfaction
1. Improves Health/ Wellness
My wake-up call to creating an optimized laptop desk setup was when I saw a video of myself walking and noticed that I was beginning to look like the Hunch Back of Notre Dome.
Hunching over a laptop all day will do that to you. 
According to ergonomics, there is a science to the best desk setup when you work primarily with a laptop. 
Laptops are optimal for work mobility because, unlike desktops, they allow you to go anywhere with your work. You're not confined to a desk, tons of wires, and a heavy power box. Ergonomically though, they're bad for your body.
To minimize strain on your neck by hunching, ergonomic experts recommend using a laptop stand so that your screen is at eye level.
---
---
Because your eyes and hands are at different levels of your body, ergonomic experts also recommend a wireless mouse and keyboard so your hands can stay in a comfortable position to type while your laptop screen is at eye level. This keeps your arms from being strained from holding them up to your raised laptop and keeps your wrists from being uncomfortably bent.
---
---
Mouse Pad
---
Further studies on how your working environment affects your health have shown that sitting down for long periods of time is linked to earlier death. Sitting is terrible for your heart health so it's important to create a space that allows you to stand as well.
---
---
Adjustable standing desks allow you to sit or stand with your screen in a position that doesn't strain your body. Taking it up a notch, keeping yourself moving while working can get more blood flowing to your brain and help you easily get your 10,000 steps a day in.
---
---
---
2. Increases Productivity
It's important to have a particular portion of your space carved out for work only. A productive desk setup allows you to better mentally separate your work, play, and rest areas.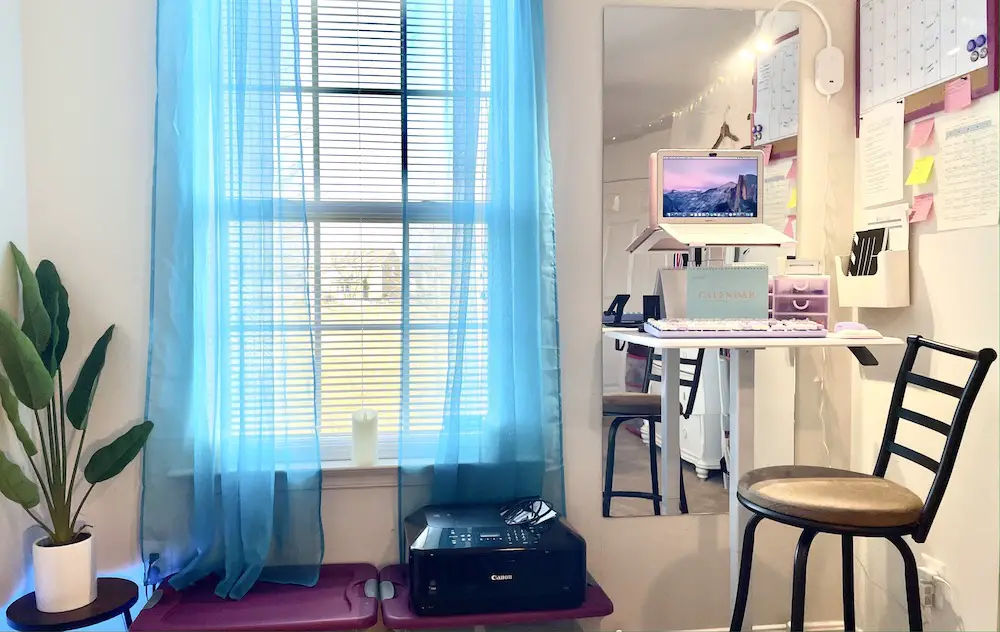 As the saying goes, you shouldn't "potty" where you eat, well you also shouldn't work where you sleep. Long-term, working in bed can reduce sleep quality, and poor sleep leads to poor productivity.
Having proper lighting also affects productivity. Dim lighting strains the eyes and lighting that's too bright can cause headaches. Natural sunlight is best but since it's not in our control where and how bright the sun shines, a good lamp that mimics the sun is a good substitute.
---
---
---
Additionally, having everything you need for the workday within reach in a designated place makes you feel put together and more equipped to take on the day's tasks.
---
Mini Supply Drawer
---
---
3. Creates More Work Enjoyment
Your atmosphere can have a big impact on your mood. Colors that make you happy and music that gets you pumped make working a joy even when you didn't initially feel like it.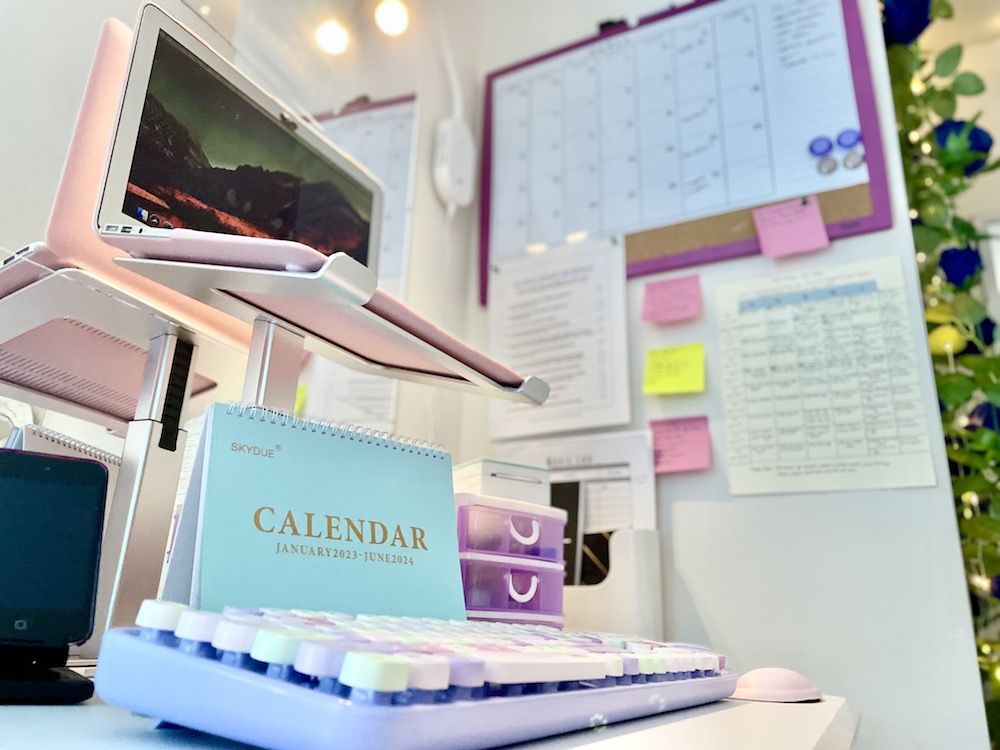 ---
---
Phone Stand
---
---
---
Best Desk Setup | 13 Helpful Items List
---
---
In Conclusion…
Working in front of a screen doesn't have to be mentally and physically straining.
Creating the best desk setup will improve your health, improve your productivity, and help you look forward to working. Items like standing desks, laptop stands, mouse pads, and LED lamps are foundational to better productivity and ergonomics.
I hope this article was able to give you practical ideas for how to have the best desk setup to maximize your productivity, mobility, and comfort.
---
How do you plan on optimizing your office desk setup? Let me know in the comments below!
And be sure to subscribe for the latest blog updates (form in sidebar).
Peace, love, and lots of popcorn,
IMO