Is Canva Pro Worth It? | Top 4 Greatest Pro Features
Is Canva Pro worth it? Yes, it is, and let me tell you why.
I actually got Canva Pro by accident.
I completely forgot to cancel the Canva Pro trial that I was using probably for the third time. When I saw the email that my account was billed, I was ready to protest to get my money back because $120/ year? That's not a light payment. That costs more than a lot of the other tools I use to enhance my site. 
But then I realized, I use Canva regularly to create designs for this blog, for my job, and for extraneous projects, and the tools in Canva Pro have made graphic design a breeze for me, especially as someone who is not well-versed in digital art. I thought to myself, you know what? Canva Pro is worth the fee. I've abused their Pro Trial for long enough anyways, I'll let this year slide. 
So I mentally concluded that Canva deserved my money anyways and made sure that the auto-renewal option was turned off because $10 per month – that adds up. 
Fast forward to a year later when my subscription expired and I no longer had access to other Pro features, I quickly retrieved my credit card to set myself up for auto-renewal this time. After I had tasted the goodness of Canva Pro, I simply couldn't revert back to the free version. 
These are the top 4 features of Canva Pro that make me believe that this online graphic tool is absolutely worth it. 
---
This page contains affiliate links which means that I will receive a commission if you choose to purchase through the link at no additional cost to you. Please read the full disclosure for more information.
---
Is Canva Pro Worth It?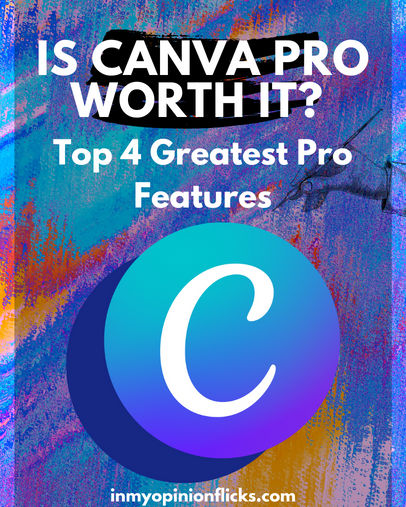 1. The Resize Option
Canva Pro gives you the ability to easily change the page dimensions of your creation.
It automatically resizes the elements of your page so that they fit the new dimensions that you create which saves a lot of time in the long run.
This feature is especially helpful when you want to repurpose a design for multiple uses. For example, you make a featured image for your blog post, then you can resize that same image design for a YouTube thumbnail, ad then resize it again for an Instagram post.
Without this feature, you would have to do a lot of manual reformatting in order to change the dimensions of a design. If you have an especially long document with a lot of precise measurements, this can be extremely tedious work.
I wrote a long 26-page ebook and then realized that it was the wrong size. Just looking at the cover of the book, you can see that there are approximately 1,000 elements I would have to readjust (ok, maybe I'm exaggerating a bit). And it only got more complex from there…
Unwilling to go through the trouble of redoing everything that I already meticulously formatted on each page, I opted for the 30-day free trial of Canva Pro – the trial that sucked me into Canva Pro for the foreseeable future.
With Canva Pro, if you find out that your page needs to be bigger so your pixels are clearer, or smaller so that your image takes up less storage space, it's easily achievable within seconds which honestly saves a lot of time, money, and energy.
2. Background Remover
The Background Remover is a close second for the most "worth-it" features of Canva Pro. 
With Canva Pro, you can remove the background of any image with the click of a button. This makes it easy to take an element of one picture and give it a completely different background. This feature is simplified photoshop with no need for any manual digital cutting.
Although, if the instant background removal is inaccurate, there are tools you can use to specify which areas of the original image you would like to keep or erase.
However, I must say, you don't need Canva Pro to remove the background of an image. There are completely free ways to do this.
Before I had Canva Pro, I would go to Photopea.com which is pretty much a free online version of Photoshop. It's a bit complex to use if you're not familiar with photoshop, unlike the intuitive drag-and-drop design of Canva, but their instant background removal tool is decent enough with some manual editing.
Once I finished toying with Photopea, I would then upload the image with a transparent background into Canva. The end result was adequate, to say the least, it just took a few extra minutes outside of Canva to make my vision happen.  
Also, I believe with iPhones now, if you press and hold an image on your phone it'll give you the option to cut out the background of the image. So there are definitely ways to remove the background for free but having the option within Canva is absolutely a time and energy saver. 
I used Canva's background removal tool to really maximize a book cover. From the many images Canva Pro had to choose from, I fell in love with this peaceful landscape but still needed the essential element of an eagle on the cover. So, I took a flying eagle from another image that I liked, put it on the preferred landscape, and then reflected the eagle in the water below because *details*.
The outcome was seamless and practically effortless. I don't know how well my cut-and-paste job would've worked with free tools but I'm just glad I had Canva Pro in my corner because again – I know nothing of graphic design.
With Canva, it's so much easier to make designs look aesthetically pleasing.
3. Premium Photos & Fonts
The first sign that my first year of using Canva Pro had come to an end was that I wasn't allowed to use a premium photo that I liked without the unsightly watermarks.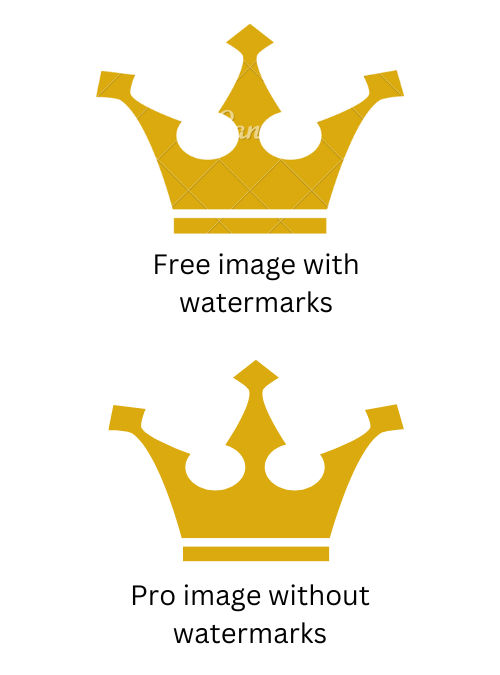 That was my sign to re-sign up for Canva Pro and to keep the auto-renewal on.
One amazing thing about Canva Pro is that when you have a clear vision of the featured article image, the book cover, or the template you're trying to make, Canva has practically EVERYTHING you need to bring that vision to life.
The free version of Canva already has thousands of images, stock photos, fonts, and animations available for designs but then you get to the premium options available and the sky is the limit! As someone who is always looking for helpful movie templates, some of the premade templates that you can use as inspiration are golden tools to build upon.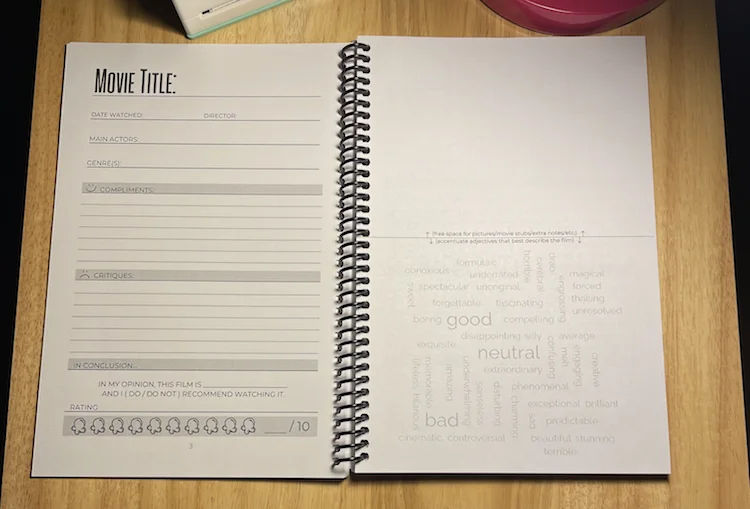 Access to all that Canva has to offer is incredibly liberating and literally makes the very crucial element of eye-catching designs a breeze. It's like you have someone in your corner feeding you with ideas and elements to bring your vision to life. 
Instead of going on a stock site and browsing for hours to pay $3 for one picture that suits your fancy, you have a library of photos, icons, backgrounds, and eye-popping designs that you've already paid for, available for your use. 
Since using Canva Pro, I've not needed to buy stock images from external sources as I did at the beginning of my blogging journey.
The freedom to create limitlessly on the simple Canva platform is what really makes Canva Pro ultimately worth it for me.
4. Brand Kit
Canva has a brand kit that allows you to store all the colors, fonts, and logos that represent your business right within your Canva toolkit.
Each time you start a new design, your brand kit is open among your design options making it easy to incorporate your brand's aesthetic into any new digital art you create.
I've skimmed over the brand kit once but have yet to fully set it up with all of this blog's branding characteristics. I have a personal branding kit I created through a course outside of Canva, I just haven't transferred the information over yet.
Whether through Canva Pro or an outside source, having a brand kit is a great tool that will make all of the designs for your company look uniform and establish your aesthetic as a business. 
---
Extra Canva Pro Features
These are some of the extra features of Canva Pro that are super helpful but I don't actively use them as much. 
1 TB of Storage
I've never run low on space with Canva Free but when you end up uploading a lot of pictures and videos, space can run out pretty quickly. With Canva Pro, you have a lot of space to spare as opposed to Canva's free version which only has 5 GB of space. 
Content Planner
Canva has a social media scheduler that allows you to schedule when your designs are posted on your social platforms. This allows you to have designs scheduled to go live ahead of time instead of manually having to post each social media promotion. They also pre-populate the calendar with important upcoming events and holidays to help you plan marketing strategies that coincide with those days. 
Team Design Ability
Canva Pro allows for easy team collaboration on designs if you're working with multiple people. 
---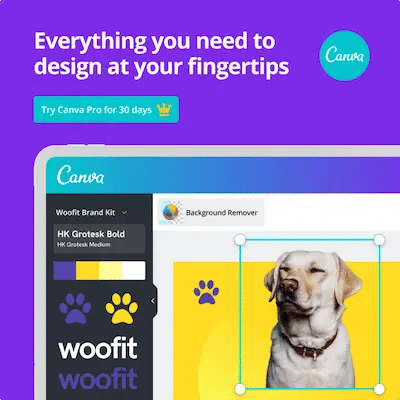 ---
Who Is Canva Pro best for?
If you're using Canva for just recreational, educational, or short-term purposes, you most likely will not need to purchase any Pro features. 
There are free tools that you can use in conjunction with Canva Pro to achieve an advanced, professional look. Those options may be a few extra steps but will get the job done.
If you run a non-profit or work in education from K-12, you may be eligible to get Canva Pro for free.
I would recommend Canva Pro to anyone who is using Canva's graphic design elements for business purposes. 
If you're building a website, are a social media manager, creating book cover designs, selling Etsy templates, or anything that will eventually lead to a money-making outcome for you, then I absolutely think that Canva Pro is a good investment. 
I used Canva Free for college PowerPoints and simple designs and never needed more than what the free version had to offer. But as a movie blogger, I often need visuals to enhance my posts and my web design. 
Canva Pro is the next best thing to hiring graphic design artists for your creative business pursuits. In this visual day and age, Canva is the tool that you need to make sure your business has a shot at catching people's eye and standing out from the crowd.
---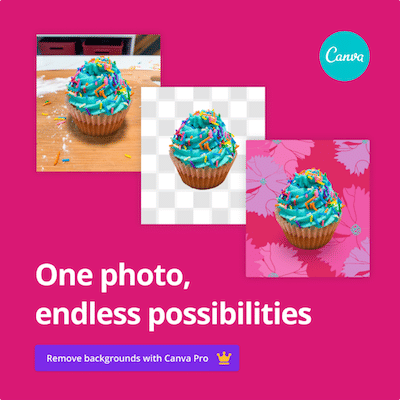 ---
Canva Pro Pricing
Canva Pro is $119.99/year or $12.99/month for individual creators. For teams of people using Canva Pro, the price starts at $149.90/year or $14.99/month and increases with the number of people added to the account.
If you're an educator or work for a non-profit, you may be eligible for free access to Canva Pro. Click here to see if you can get Canva Pro for free.
---
Common Questions
Is it worth paying for Canva Pro?
It is definitely worth paying for Canva Pro IF you intend on using it for business purposes. If you're using it for recreational or educational purposes, I would stick to the free version personally because that's usually sufficient. If you need a Pro template or image, you can always try the 30-day free trial. Just be sure to cancel it if you decide you don't want to stick with it.
What is the difference between Canva vs Canva Pro?
The difference between Canva and Canva Pro is that Canva Pro holds a lot more storage than the free version, it makes a lot of images, fonts, and graphics available, you have access to the background remover and the resizing tool, there is a brand kit, a content planner, and also much more intended to help grow businesses.
Why is Canva Pro so expensive?
Canva Pro is so expensive because it brings the work of graphic designers to your fingertips without the hourly costs. You're also paying for access to thousands of stock images, graphics, and videos in advance.
How much does Canva Pro cost?
For individuals, Canva Pro costs $119.99/year and $12.99/month. For teams of people, the price starts at $149.90/ year or $14.99/month and increases with the addition of team members.
What are the main advantages of using Canva Pro over Canva Free?
The main advantages of using Canva Pro over Canva Free are access to millions of graphics, animations, and videos, thousands of design templates, easy background removal, the magic resize option to easily repurpose and adjust designs, and the brand kit.
How much is Canva Pro for students?
Is Canva Pro Lifetime legit?
---
In Conclusion…
So is Canva pro worth it? In my case, as a full-time blogger, it greatly simplifies the graphic design process without having to hire a freelance graphic designer which can be pricey.
If you're not planning on turning a profit with Canva Pro then I think sticking to the free version is appropriate. But if you're looking for an online tool that will enhance your business' aesthetics without stressing you out, Canva Pro was made for you and I guarantee you, it's totally worth it.
---
What do you think? Is Canva Pro worth it for you? Let me know in the comments below!
And be sure to subscribe for the latest blog updates (form in sidebar).
Peace, love, and lots of popcorn,
IMO