WP Rocket Review: The Easy Solution to Skyrocket Site Speed
This WP Rocket review is made for those of us who want a faster website but aren't sure if taking the plunge to purchase WP Rocket is worth it.
Long story short, having used WP Rocket for almost 2 years now, it absolutely IS worth it.
WP Rocket is the easiest, stress-free solution to a slow website.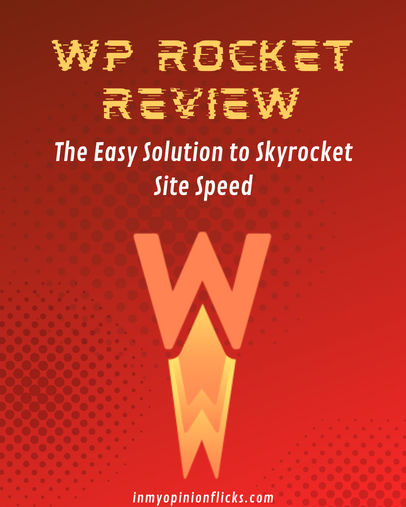 As a movie blogger, I thrive more in the creative aspect of blogging than the technical aspect so troubleshooting my slow website without paying a dime was a nightmare of a crash course that drained the joy of blogging for me.
Like me, you may have already spent a good sum of time searching through the free plugins and complex solutions to a fast website. Although those solutions may make an incremental difference to your web speed, WP Rocket takes your website to a whole new level of speed while saving you loads of time and stress.
---
This page contains affiliate links which means that I will receive a commission if you choose to purchase through the link at no additional cost to you. Please read the full disclosure for more information.
---
How to Speed Up Your Site Now
How long are you willing to wait after clicking on a website link before you turn back to try to find something else? 5 seconds, maybe 3?
Having a fast website load time is crucial not only for people to actually view the amazing content you worked so hard on but also for Google to favorably rank your site. 
Faster websites get on Google's good side and if you want more views, you need a fast website. 
Test Your Site Speed
Not sure how fast your website is?
Use these tools to measure. 
Google Page Speed Insights is a strict judge but it provides crucial insight into how Google sees your site so you want your website to be well judged by this tool as much as possible. Google prioritizes mobile speed over desktop so be sure to pay attention to that too.
GTmetrix is my favorite because it mirrors Google's results but then is a bit nicer and offers more detailed information on what may be causing your site to be slow. Testing for mobile speed is only available through their paid pro version. 
Pingdom is the third speed test available although I don't use it that often. It's a great way to double or triple-check your site speed.
Webpagespeed.org is a new one I found and it's very descriptive about what's making your site slow and whether any issues your website has are critical or not.
If you haven't already tested your site with these tools, I recommend you do so now. If your results are not in the green range and you're tired of troubleshooting your free options, then look no further than WP Rocket.
WP Rocket Saves So Much Time
Instead of spending your time trying to figure out how to "cache" and "delay JS" on your site, you can spend that time focusing on building the content that makes your online business unique.
One important business tip I've heard several times over is that you need to outsource the tasks that you're not uniquely good at to allow yourself more time to maximize what you ARE good at.
That doesn't always mean hiring full or even part-time staff. Sometimes, it's as easy as hiring a plugin that you're not even paying $16/hour for, but rather $60/year.
At the end of the day, you either spend time or money, and only one of those you can actually get back.
WP Rocket is a no-maintenance, no-brainer, easy decision if you're a site owner who plans on growing your website into a booming business.
Does WP Rocket Work?
WP Rocket's results are IMMEDIATE. I genuinely haven't worried about my website speed since I bought WP Rocket in 2021.
With nearly 3 million satisfied users, this plugin has earned the title of the #1 caching plugin on WordPress. It even has a 4.9 rating on Trustpilot, rated by 1,700+ people. It's impressive to have that many customers rate a product that highly.
And WP Rocket lives up to the hype.
I decided to retest the plugin to see if it's still making a tangible difference on my site with a simple experiment.
I'm going to deactivate WP Rocket for a moment and test my website's speed just as it is. Then, I'm going to reactivate it and retest my site speed to see if anything changes. The results speak for themselves.
WP Rocket Plugin Review – Speed Test Results
---
GT Metrix
With WP Rocket deactivated on my website, GT Metrix gives my website a solid C which I would assume is a decent, average score. My site probably isn't intolerably slow but it is definitely leaving a lot of room for users to second-guess their decision to visit the site.
However, in the second picture, with WP Rocket, my website is a star student on the distinguished honor roll. If you ever just want to feel good about yourself, just download WP Rocket and run your website speed with GT Metrix.
Pingdom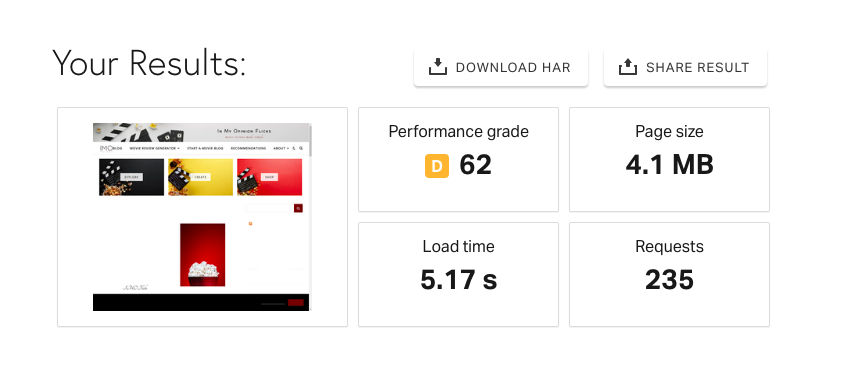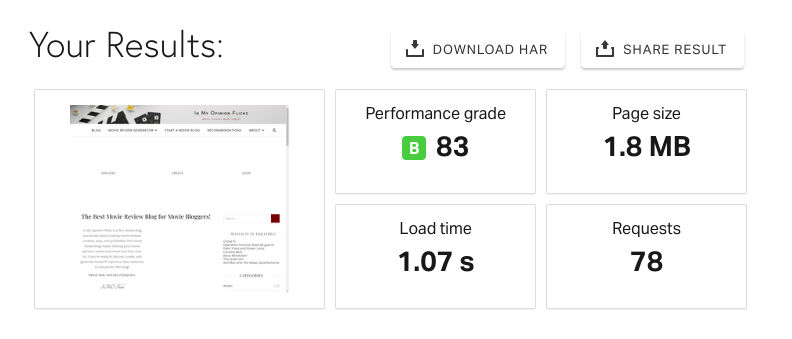 Without WP Rocket, Pingdom gives me a failing grade of 62. The load time is slow which may be due to a larger page size and a lot of page requests. With WP Rocket, the score jumps by over 20 points, leaving this site with a passing grade of 83.
The perfectionist in me is not ecstatic about a B grade but still very pleased with a page that loads 4 seconds faster now than it did before which can make a lot of difference on your page views.

Google Page Speed (Desktop)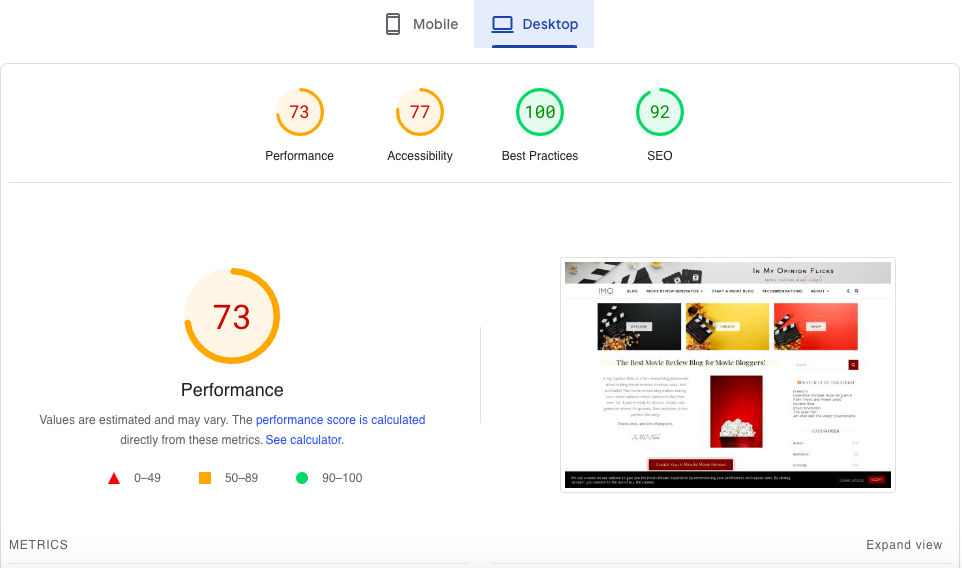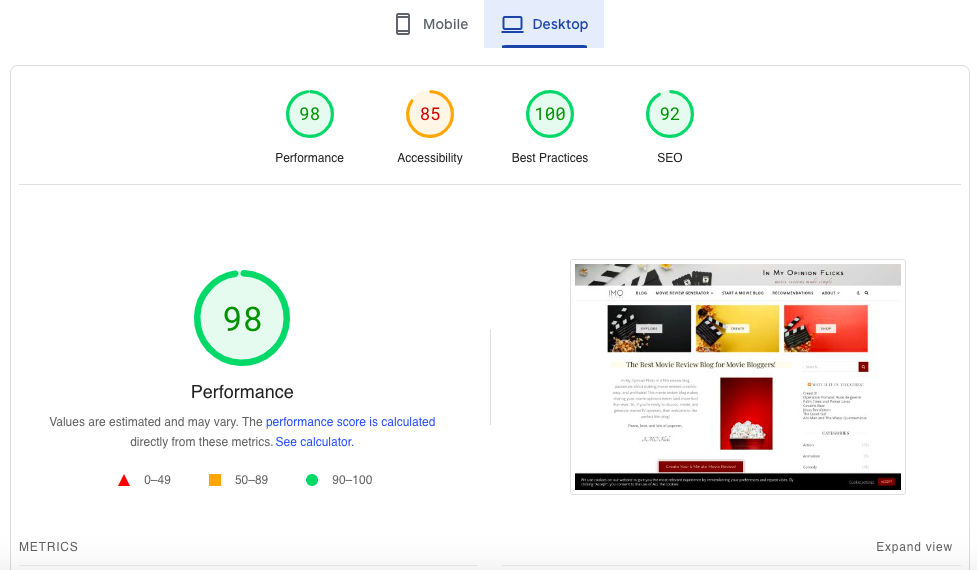 The score on Google's speed test mirrors the results of GT Metrix. It gives me a solid C without WP Rocket and then almost 100% once WP Rocket is activated.
Google Page Speed (Mobile)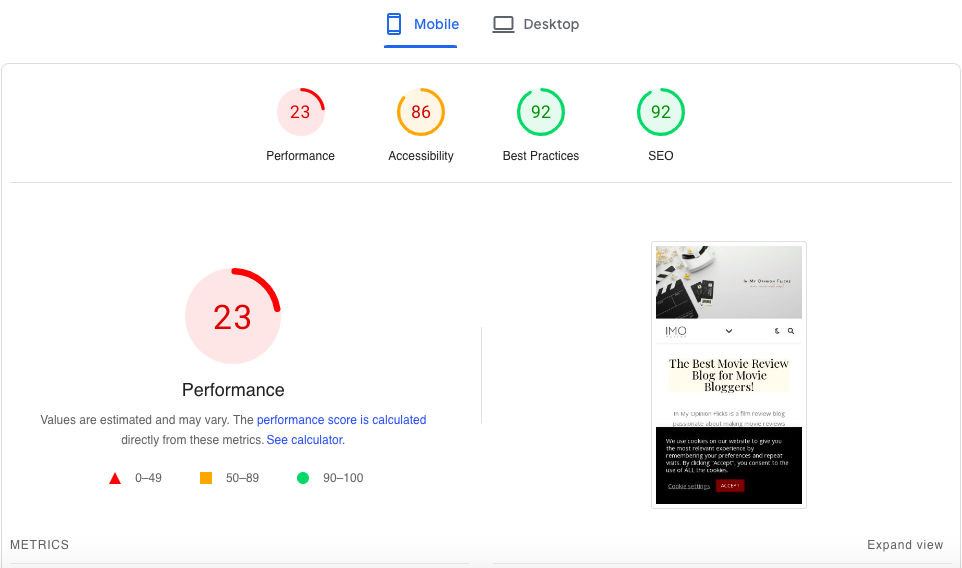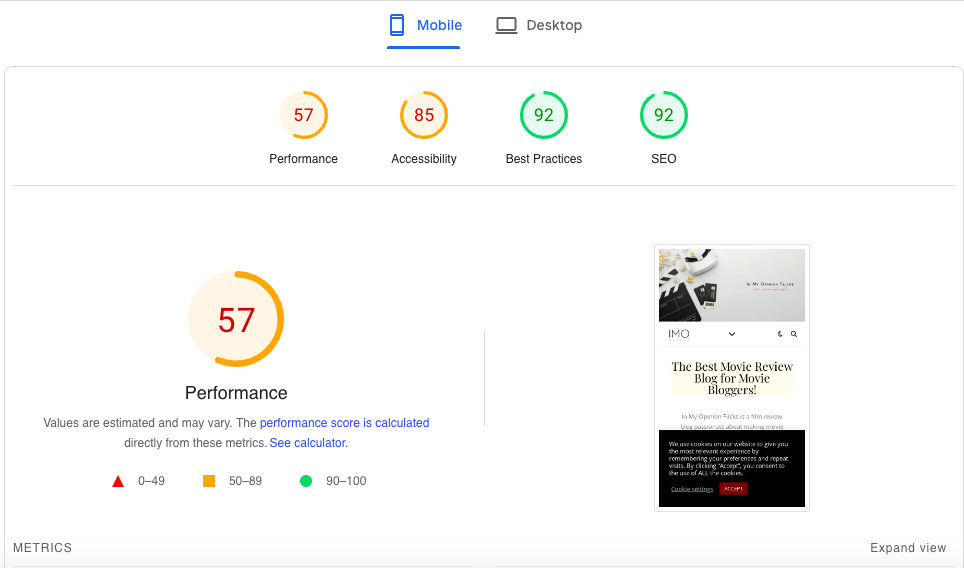 Google's page speed results for mobile devices are the most disrespectful to my website but I'll take the constructive criticism.
Without WP Rocket, my site is at an abysmal, bright redly highlighted 23%. With WP Rocket, my site's performance jumps up 35 points which is the most improvement out of all the speed tests. There are also no more red, critical results but in the grand scheme of things – I'm still failing.
There are probably some things I can adjust to fix this. After checking my page with www.webpagetest.org l got a lot of detail about what I can adjust for a faster mobile website. And I think it might be time for me to consider Accelerated Mobile Pages (AMP) as well. But that's for another day…
Not all my speed tests got passing grades (looking at you Google) but boy is it a huge step up. 
---
Is WP Rocket Worth It? | My Experience
I remember when I first noticed that my slow website could be impacting my pageviews. I spent 2 whole weeks of time mixing and matching free plugins, trying and failing to understand what "caching" means, and reusing speed metrics tools so much that I maxed out my uses for the day. 
It was stressful but I was obsessed with getting my speed metrics in the green not realizing that I could've saved myself so much trouble, energy, and most importantly TIME if I just put down less than $50 for the whole YEAR to have WP Rocket do it for me. 
I had seen the name WP Rocket around for page speed a lot but was adamant about not having to pay for a plugin to get good web speed. 
I don't know why it's so easy for me to pay $50 for a meal that will be obsolete in 24 hours but not $49 for a tool that will increase my revenue in the long run.
Eventually, I came across this Youtube video:
---
This video, viewed by almost 600,000 people, was created by Ahrefs, a company that specializes in growing and optimizing websites.
I desperately needed something simple. So when one of the tips in the video included purchasing WP Rocket, instead of turning away from the video and continuing my endless search on how to reliably speed up my website for free, I caved and bought the magical plugin. 
One of the BEST decisions I made for this website by far.
Once I implemented WP Rocket, my web vitals were in the green. 
After a little bit of tweaking to make the settings work with my site, I literally never really had to worry about my site speed again afterward. 
Since I first installed WP Rocket, I did change the theme of my site so it impacted my speed a bit. I haven't revisited my settings yet but in general, everything is still in a tolerably good range. 
I don't know all the ins and outs and logistics of how this plugin works for me and that's the beauty of it. 
There is not enough time in one life to learn and understand absolutely everything, so you've got to be selective about the things you invest your time into and the tasks that would be most cost and time-effective to outsource. 
I could have devoted more time and energy to a free solution for my website but if one of my free plugins changes or I change anything about my website, I'd have to restart the whole mission again, wasting more time down the line. 
WP Rocket is a one size fits all comprehensive solution to slow website speed that has already worked for millions of people with varying types of websites. Chances are, it'll work for you too.
---
WP Rocket Cons
The only issue I've had with WP Rocket is with a particularly long article that was posted, it messed up the mobile version of it. On my desktop, the post looked exactly how I wanted but on mobile, it looked like a bare 2000s computer website, without any of the design elements. 
I found out the issue was with the way WP Rocket cached the page and just had to adjust the settings to fix it.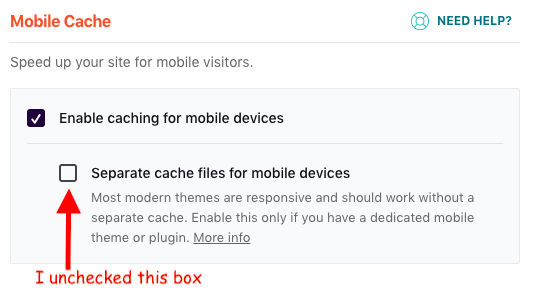 Easy problem solved. But yeah, always check how your posts look in the mobile version because people are more likely to use their phones than a desktop nowadays. 
If there is a problem with WP Rocket or you just need assistance adjusting the settings for your website, they have a lot of helpful resources on their site and you can contact them through their website as well.
WP Rocket Review – The Pricing
WP Rocket's price differs based on how many website licenses you need. A single website license is $59/year, for up to 3 websites it's $119/year, and for an unlimited number of websites, it's $299/year.
A positive addition to the prices is that when you stick with WP Rocket, you are financially rewarded.
When I first purchased WP Rocket back in November of 2021, the price was $49. And they have an autorenewal discount where I only pay $39.20 each year now for WP Rocket.
Even with the price increase, WP Rocket hasn't increased the price of loyal customers.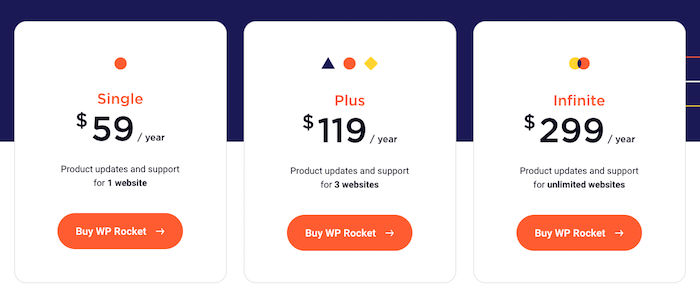 At the beginning of 2023, WP Rocket increased their pricing due to further advancing the quality of the plugin and inflation as well. Now the price is $59 for a single website.
As someone who has experienced the immense value of this plugin, I would recommend you don't hesitate too long before getting WP Rocket for yourself. Even at $59, this plugin is a steal. And if you get it now, 2 years from now, you may even benefit from the legacy members' pricing like I am now.
If you learn that this plugin doesn't work for you, there is a 14-day refund guarantee. 
Within the first day, you'll know if WP Rocket is actually making a difference. And if not, just go get your money back! There is nothing to lose and so much to gain by giving WP Rocket a try.
---
How About Discounts?
There are discounts during the year through the WP Rocket website that automatically apply to your purchase. If you're reading this near the end of March, the beginning of July, the end of October, or the end of November, chances are that there's a sale going on. Sign up below to be notified when they have discounts!
---
In Conclusion…
WP Rocket is trusted by companies big and small. From simple bloggers to large agencies, millions of people have found site speed success with this stellar plugin, including me.
For as low as $59 a month, or even less if you catch a good discount, you can finally let go of the stress of a slow website and let this tried-and-true plugin give your site speed an instant upgrade.
Get WP Rocket now so you can focus back on creating the content you desire!
---
Any questions, comments, or concerns about WP Rocket? Let me know in the comments below!
And be sure to subscribe for the latest blog updates (form in sidebar).
Peace, love, and lots of popcorn,
IMO