Movie Blog Progress Report 2023 Q1
I didn't do a review of my 2022 so I'm going to quickly recap the year. It was actually really successful. I feel very good about my SEO abilities at this point. I unexpectedly had to work more time at my day job which really made it more difficult to have energy for the blog but I still posted relatively frequently. 
Financially, I made $651.82 through affiliate marketing and ads which is not a lot for a year but given that I was posting with no strategy, each successful sale was a pleasant surprise.
I have a new website theme and design as well and I quit my job at the end of 2022 to focus on this blog site, not because I'm making enough income over here but because it's the only thing I enjoy doing and I believe in it. If it doesn't work out, I'm smart and resourceful, I will find another way to make money. But this is a leap of faith I'm excited about so we're going for it. Let's analyze how 2023 has been going so far!
---
This page contains affiliate links which means that I will receive a commission if you choose to purchase through the link at no additional cost to you. Please read the full disclosure for more information.
---
Q1 Performance Review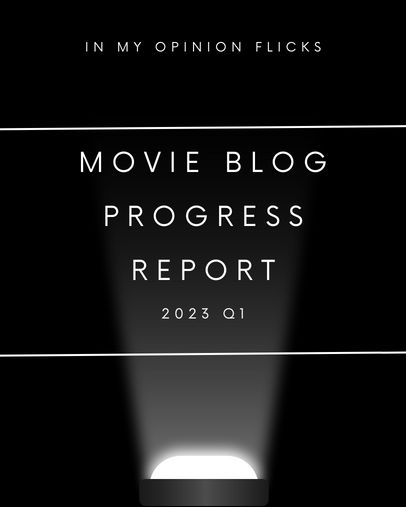 I am so proud of all that I was able to accomplish this first quarter. I completed all of my goals and more. 
My first Quarter Goals were as follows:
Create high-quality affiliate pages
Lay a solid foundation for email collection
Establish quality/professional web design. 
I gave myself tasks to complete every day and was able to complete them before the start of the next week so really, super proud of the consistency. Really glad I came across the book "The 12 Week Year" because it has streamlined and improved my productivity exponentially.
---
I feel like I'm actually in control of the growth and progression of my blog now. It's not just random, it's calculated and intentional which is nice. 
So, the main focus of this first quarter was not to grow the blog or make a ton of money right off the bat. I just wanted to establish a strong financial foundation for the blog and make it something I'm proud of. 
I deleted about 40 old posts that were not serving the website, that were poorly written, or that I was just embarrassed by. I rewrote and edited the remaining posts (about 70 of them) to revamp them for SEO. I wanted to clean up the blog and be intentional about the information I put out there moving forward.
So the stats aren't crazy good but I feel more confident than ever about this site and excited about what it has to offer instead of being embarrassed by it and fearful of people's responses. 
Anyhow, let's crunch numbers now:
Movie Blog Income Report
Income for Q1 (Jan 1 – March 24):
Affiliates:
Feb 1: $42.81 –> Perfecting Pinterest
Ads: 
Jan: $1.84
Feb:  $1.96
Total Ads: $3.80
Total Income for Q1:
= $46.61
Expenses:
Ubersuggest: $290.00
Liz Wilcox Email Marketing: $108.00
Movie Tickets: $70.00
2nd Bluehost Website: $33.00
Office Supplies: $11.78
AI Movie Review Generator: $893.44
Total = – $1,412.22
Net Income for Q1: – $1,365.61
I've definitely become less shy about spending money on my blog. For the past 2 and a half years I worked a practically full-time job and didn't have too many expenses so I have a good bit of money saved up which I can use to invest in this business because no one's going to believe in it if I don't. 
However, these negative net numbers obviously can't stay this way. 
The majority of the expense came from creating the AI movie review generator which I hired someone to do for me. AI is thriving and people are searching for more AI tools so I'm just being proactive and we'll see if it pays off with time. 
Also, I watch enough movies each month that I might as well just invest in Regal Movie Unlimited and just pay $20 a month for unlimited movies. It'll be more cost-effective this way for me and Regal is the closest movie theater to me. That'll definitely help me to mitigate costs and I'll also be able to watch and rewatch movies as many times as I need to. 
Page Views
Let's move on to the metric that is the next important to monitor, page views. 
Our page views have decreased slightly since January. We started off really strong with 7,461 pageviews in January which I believe is an all-time high for this site if I'm not mistaken. Currently, I've leveled back down to 5,168 page views for the month of March so far. 
After some research that I did just now, I found that I can start with Ezoic's Ad program which pays more than Google Adsense. They now accept websites with less than 10,000 pageviews so I'm going to join that now and let it increase until I have enough for Mediavine as well.
Honestly, I only posted about once a week in the last quarter as I focused solely on putting out thorough affiliate reviews so I did not have a lot of super high-volume keywords related to movies. 
Because of that, I'm glad my pageviews didn't dip too drastically and my evergreen content like the 8 ways to keep track of movie reviews really stayed a consistently popular page on this site meaning this upcoming quarter, we're definitely focusing on more evergreen content to keep my pageviews afloat.  
Email Subscribers
I rarely check my email stats but I just checked it now and yes, I have been thoroughly neglecting my email list.
I desperately need an email strategy which is exactly what I will be more on top of in this next quarter. 
I've gained 39 subscribers since the beginning of January which is a lot considering that I have 94 email subscribers in all.  A lot of these subscribers seem to be unconfirmed though so I really only have 43 ACTIVE subscribers. 
Email is such untapped territory for me so this next quarter, I've invested in an email membership program with the coolest teacher so I'm just hoping to take the fear out of emailing and have fun with it really. 
Socials Stats
I have not even blinked near my social media platforms. They really don't tend to help too much when it comes to ROI but I have heard of the power of Pinterest with blogging so I will be trying it once again. I'm going to revisit Sophia Lee's Perfecting Pinterest Course and absolutely master it to see if maybe it is possible to increase my site revenue with Pinterest.
Social Media Followers:
Pinterest: 20 followers
Twitter: 11 followers
Instagram: 261 followers
Youtube: 69 subscribers
Facebook: 5 followers
TikTok: 2 followers
When it comes to social media, it's not a priority right now. Building the quality and content of the site and marketing it to people who are searching for the site's keywords is key right now. 
Once the system of running a consistently profitable and high-volume website is set in place, then I can focus on growing social media. 
And if you're reading this right now, help a sister out. Whatever I post goes immediately on Twitter and Facebook so it keeps you up to date on new posts at the very least. But other than that, my social media pages don't have much to offer right now TBH. 
Top pages for Q1
The pages that got the most views over the past 10 months were the following:
Looking at these top 10 pages, I'm noticing some patterns. 
One interesting thing is that some of the most popular pages on this site are talking about a "bad" review of a movie. 3 out of 10 of the popular pages have the word "bad" in them. It's clearly a powerful, magnetic word when it comes to movie reviews then. 
I studied psychology so it is true that negative emotions often have a stronger impact than positive ones. This is called the negativity bias. 
Although I'm not going out of my way to hate movies, I do tend to be critical of films, especially when they suck and nobody's really talking about why. I think that debriefing and unpacking why something doesn't come up to par is part of that need to more thoroughly process those negative emotions so you can move on. 
At least for me, I know it helps when I'm not alone in my point of view. It helps to talk about it and find people or articles that share my point of view or even expand on it. So I'm glad those articles are something that is filling a need. So good thing to keep in mind, when appropriate, use the word "bad" in the title or keyword. Some people need to relate to that. 
2 out of 10 of the top 10 articles are evergreen content that doesn't focus on one movie in particular. The "8 ways to track movies" and "how to write a movie blog" posts. The movies that are in vogue come and go but people's interest in movies is a relatively stable factor. 
Evergreen content is a good underlying structure to any blog to shield it from the constant ebb and flow of movie trends. 
2 out of the 10 top posts are related to the movie review generator. I created the movie review generators because I wanted to make a tool that would keep people coming back time and time again to In My Opinion Flicks and spending a little time here. It is proving to work really well because it also is not affected by which movies are "popular" right now but is an evergreen tool for easy movie review creation. 
The Harry Styles review really was me riding on the virality of his name and all of the drama surrounding his acting in "Don't Worry Darling."  I capitalized on his extreme relevancy in the media and it worked out in my favor. However, over time, the post has lost the popularity it used to have. 
Then there is the "Where the Crawdads Sing" essay. I also rode on the popularity of this book and movie. It had just come out on Netflix and it was the number 1 watched movie so I found that the racism aspect of the film was popular and didn't have any good articles on it yet so I took advantage of the cultural relevance, used it to my advantage, and it worked out. 
So those last two are really just good timing and keyword research. 
Finally, the homepage is doing good and that's nice. People may just be curious about what else the site has to offer so I did redo my homepage to make the benefits of this site crystal clear. 
Goals for Quarter 2
Whooo Baby I AM READY TO GOOO!!!!!! This quarter is the definition of GO TIME. 
There's such a clear and clean structure on my site now, I'm very proud of what I have here now and I'm equipped with all the tools I need to grow this site. Now that the foundation is set, it's time to grow!
I bought Ubersuggest so that I can see which keywords are going to bring traffic to my site and there are so many keywords that are about to get maximized. 
So Goal #1: Create high-quality posts for high-volume, low-competition keywords (primarily evergreen keywords)
Second thing, I already have a good handful of great articles that don't have the highest search volume so I want to maximize those high-potential income posts with Pinterest Pins that convert. I need to optimize a Pinterest Strategy and see if it's effective for my site. We're gonna be consistent for these next 3 months and see if the effort and consistency we put into Pinterest rewards us. 
Goal #2: Reimplement By Sophia Lee's Pinterest Strategy to increase traffic to affiliate pages
Next is EMAILS! I am going to start up the weekly newsletter again, this time with the help of this new email membership program I just joined. I'm actually very excited to learn how to maximize my email list because it is growing exponentially now that I established it a bit more in the first quarter.
I need to create a simple strategy based on Liz's suggestions and literally demystify emails to the point where they're quick, easy, and profitable for the business.
Goal #3: Create a fun, easy, and profitable system for weekly emails, and the occasional sale-focused email, as well as profitable email sales funnels. 
Tangible Results I would like to see by the end of the 2nd Quarter:
A profit of at least $1,000
At least 10,000 page views a month 
At least 3 sales from Amazon Affiliates so I don't get kicked out of the program 😬
At least 1 sale of the Movie Review Journal
At least 100 ACTIVE email subscribers
If I can accomplish these goals, that would be the most promising my blog has ever been. It's better to shoot for the stars so that at least you land among the clouds but I don't think my goals are unreachable or unrealistic at all. 
I will be ecstatic if I reach them and riled up for an explosive Q3 if I don't. I'm excited, expectant, and ready to give this thing all I got. Wish me luck and tell your friends that I'm desperate and need all the pageviews I can get 😅 I will take the pity views!
Thanks for reading and following the journey! Hope it helps and encourages you on your own. 
Peace, love, and lots of popcorn,
IMO
---
---