Is Bluehost a Good Hosting Company? | My Horror Story | Bluehost Review 2023
Let me preface this post by letting you know that this story is not bashing Bluehost at all. Bluehost actually saved the day. Before anyone feels clickbait-ed in any way, the horror is in the situation, not in how Bluehost handled it. 
When I came across this question – Is Bluehost a good hosting company? – the first thing that came to my mind was when they saved me from throwing away the 2 years of hard work, dedication, and finances invested in this website that you're reading from right now. 
Let me start from the beginning. 
---
This page contains affiliate links which means that I will receive a commission if you choose to purchase through the link at no additional cost to you. Please read the full disclosure for more information.
---
Is Bluehost a Good Hosting Company? | My Horror Story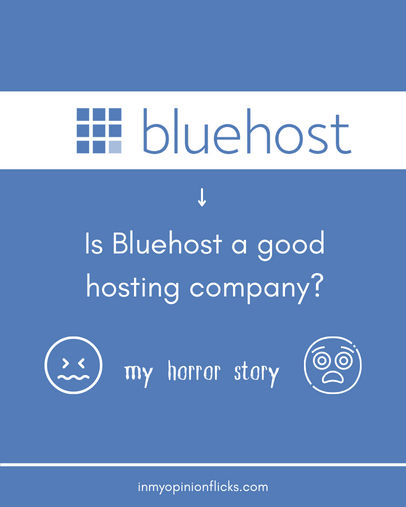 It was the summer of 2022 and I had a brilliant idea that I was excited to execute on my website. I was going to give this blog a facelift for its second-year anniversary. In other words, I was going to implement a brand-new website design.
After scouring the internet for the best way to go about doing this, I decided to try my hand at staging my website first which is basically when you make a copy of your website that you can mess around with while the live version of your website stays the same.
I found the perfect design and plugged it into my staging website, tweaking it day by day to make sure it fit the new vision I had for my site. 
While tweaking the design on my staging site, I would continue to post brand new movie review posts on my live site, certain that I would find a simple way to blend the blog content of my old site with the new design of my staged site. 
Finally, the day came when it would be time to transfer the design of my staging site to the content of my old site. 
Being a non-programmer (or non-developer), and really not understanding the complete ins and outs of website building, I opted into the paid version of WP Staging (the staging plugin that I was using) so that they could simplify the technical aspect of transferring my staging website design to my live website. 
After a few dollars spent and a few clicks of some buttons, I excitedly initiated the process that would upgrade the vibes of my humble website. 
Once the process was complete, I viewed my website again. My mood was immediately deflated.
It looked alright, I guess, but the three most recent blog posts that I posted only on the live blog design were gone.
"No problem!" I thought to myself. This is an easy fix. I'll simply access the backups I was told repeatedly to have before the transferring process and I'll restore ONLY the posts and content from the old website, leaving the new website design intact. 
So, I queued up the most recent backup (not knowing that even my backups were replaced with the staging website's data) and looked at my backup options. I could ask it to restore my Database, Plugins, Themes, Uploads, or Others…
I believe the database is where the content is stored so if I just restore the database only, then my design should stay intact, right?
I click the restore Database button before I take the time to second-guess myself. A warning box pops up as if the Lord was giving me one last chance to think twice about my hastiness. I would tell you what this warning box said had I not dismissed it so quickly. 
"What's the worst that can happen, anyways?" I ignorantly think as I watch the progress bar inch toward backup completion. 
I go to check my website again, expecting to be visited with my lost blog posts now adorned with the clean, modern design that I had been perfecting behind the scenes. Instead, I was met with a strange sign-in screen.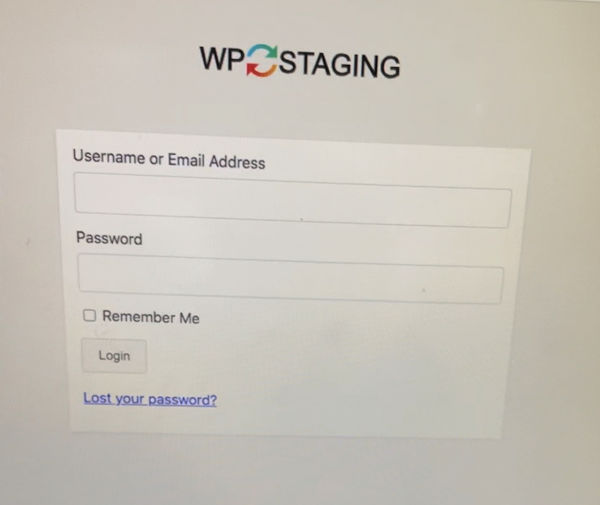 Why does my website want me to sign into WP Staging, a plugin I never created a login for?
Confused, I attempted to sign in anyways using my usual sign-in for my Bluehost account. The input boxes swallowed up my sign-in attempt, cleared the fields, and stared emptily at me as if I hadn't tried. 
I refresh the page and try again. Same nothingness. 
I forgo this futility and enter from a fresh Bluehost hosting panel. 
I enter into my Bluehost account seamlessly but when it's time to log in to WordPress, I am met with that same, useless WP Staging screen staring blankly at me.
Dang.
I screwed up. 
Big time.
Instead of slowing down, contacting the WP Staging Pro people, and seeing what folders in my database were gatekeeping my ability to view my own website, I fumble around in the only part of the website that I still had access to – my Bluehost portal. 
I visit the "My Sites" tab of my portal, and instead of seeing the pristine and familiar URL of "inmyopinionflicks.com", I see the parasitic name of the monster I created – inmyopinionflicks.com/28cu8239i023i9024u20.
The random sub-URL name that was given to my staging site.
Not only was my website unreachable, but my original URL was also gone.
In My Opinion Flicks no longer existed.
It had been devoured by my staging site, presumably, never to be seen again. 
I click on the foreign site anyways and I'm face to face once again with my enemy, the WP Staging sign-in page. 
Panicked and almost threatened, I return to my safe place, the Bluehost portal. 
I try to see if there's a way to get rid of all traces of WP Staging so I can access my site again. I click on "Manage Site" and head over to "Settings." My eyes catch on to a bright red button. The promise of the words on the button sing to me –
Delete Site. 
Yes, I want to get rid of this incorrect staging site. I want everything that is not from my original site gone. 
Frazzled and already too far gone, I click "Delete Site." 
"Are you sure you want to delete this site? All files will be permanently deleted and cannot be recovered."
The warning was followed by:
"!! This action cannot be undone !!" neighboring a caution sign in bright, red, unmissable print. 

Opportunity #2 for me to take a deep breath, turn around, and consider smarter options. 
Obviously, the answer is: No! Cancel.
But my fingers have already sealed my fate. 
Delete.
I scramble back to the "Manage Site" page on Bluehost, baselessly hoping to see my original website waiting for me. Instead, I see an empty rectangle asking me to "add site."
What?!
Where is inmyopinionflicks.com???
I look up my URL on a fresh tab. I'm met with Bluehost's error page.
"Something's come undone," it tells me.
Well, that's an understatement. 
I broke my website. 
I single-handedly, irreversibly, destroyed everything I'd taken so long to build.
I bring my hands to my head and sit back against my headboard. 
My mind is battling between pitying and rebuking myself. 
Do I start over? Is this the end of my blogging journey?
And to think, I was so excited about the future possibilities of this site just a few hours ago. 
After a few moments of relishing in my grave failure, I wipe my tears, collect my breath, and pick up my phone to call Bluehost. I've never been one to go down without a fight. 
I know they said that my actions were irreversible but I've got to try something. 
Within a few minutes, I'm on the phone with a Bluehost representative named Ronald, trying to coherently relay to him the mess I made and crossing my fingers that he can comprehend me.
After I had finished my chaotic narrative, he calmly offered a solution, one that I'd never considered or had even known was available to me – "What we can do is we can restore your website to a previous backup. This will overwrite anything that has been done since your most previous backup."
The customer service rep spoke in a tone that sounded like this situation was more common than I had thought. That reassured me that there was hope to get my site back. 
The most recent backup was from 3 days prior meaning that all of my posts would have been written and I wouldn't have tampered with transferring data with WP Staging at that time. 
Sign me up. What do I have to do?
The rep let me know that I would be getting an email just confirming the date that I would like my site restored to, and that once they received my response, my request would be sent to escalated support.
This started a chain of emails, phone calls, online chats, and anxious waiting. 
The first email asked me to respond with the day and content that I wanted to restore. The formatting of my email was rejected, so I called Bluehost right back. This time, I spoke with Jill. 
She sent me another email detailing exactly how to respond so that my request could be initiated. I sent it in and was told that given the queue of other backups that had to be fulfilled, it could take up to 24-48 hours. 
As soon as 48 hours passed, I opened up the Bluehost chat function online in the middle of my day job to check on the status of my restoration. I received more emails from the escalation team confirming my request and apologizing for the delay. 
They mentioned there was a long queue. I guess it was the season of many broken websites. 
Not long after my incessant contact with Bluehost, I received an email the next day confirming the restoration of my website, complete with screenshots of the familiar photos, words, and blog posts I had been missing.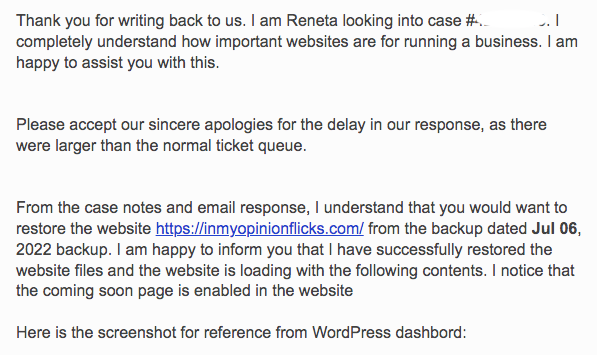 I hurried back to my Bluehost panel and tried to enter for myself. 
For the first time in days, I could breathe again. Everything I needed was back. 
My website was down for three days but it was resurrected once again. 
And although I could be irritated at the amount of time it took to get my website back I couldn't bring myself to be because my basic plan with Bluehost does not even guarantee me backup at all. 

I made a mess of my site and Bluehost answered, responded, assisted me, and reassured me in every way possible until my site was alive again. 
After that I was like, sign me up for the affiliate program, I have so much praise for Bluehost. 
TL;DR (AKA: The Story Summarized)
I completely ruined, broke, and then mindlessly deleted my website but thankfully Bluehost came to my rescue with top-notch customer support and a backup plan that wasn't entitled to me. Now my website is alive and kicking again with nothing lost.
---
 This high-value course bundle is made for bloggers who want to make money efficiently.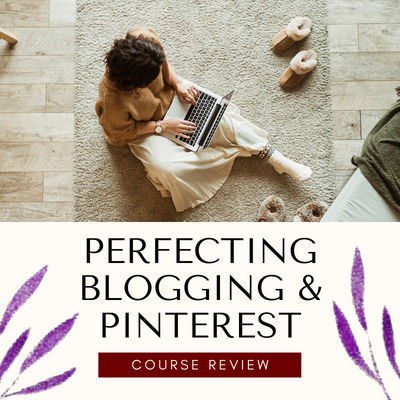 ---
Why do I tell this story? 
Nowadays there are so many options as to what hosting company to sign up with and countless to choose from. The research is mind-numbing. 
My advice to anyone looking for a good hosting company, just starting their website journey, and overwhelmed by the many options, would be to choose Bluehost. 
Bluehost has proven to be a reliable hosting company with 24/7 customer service over the phone, online, and by email. 
They are structured in a way that helps even the most computer programming-deficient users (like me) and are accustomed to solving issues a lot of beginners may run into.
Established in 2003, Bluehost has over 20 years of experience with hosting websites and continues to be one of the most highly recommended web hosts, especially for beginner bloggers.
I didn't choose Bluehost because I spent hours of research comparing and contrasting the hundreds of hosting options that mentioned features I didn't understand.
I didn't know how many gigabytes my website would need. 
I didn't understand the importance of an SSL certificate or site speed. 
I didn't even know if I would want to continue to blog after my initial year under a paid host. 
And the fear of not knowing can hold you back from starting at all. 
I chose Bluehost because one of my favorite bloggers, By Sophia Lee, a seven-figure blogging mogul highly recommended Bluehost as well. I decided that if it worked for her, it was good enough for me. 
Wasting no time, I set up my Bluehost account and it wasn't until after my blog got on a roll that I realized how valuable Bluehost was. 
The SSL certificate makes my site secure and more reliable to Google. I'm able to access my site's files through Cpanel and add up to 5 emails from my website account. I have more than enough gigabytes of space to hold my website data.
Also, Bluehost uses WordPress which can easily be transferred to other website hosts if your website capacity becomes too big for Bluehost. 
Nearly half of all websites (including websites of big companies like Nike, New York Times, and Bloomberg) are constructed through WordPress meaning if you master WordPress you can easily translate that skill to big business. 
Bluehost is one of the three web hosts that WordPress endorses on its very own website. That's a pretty big deal.
---
Addressing Bluehost Reviews Complaints 
When researching the general sentiments towards Bluehost, although mostly positive, there are a good handful of really negative experiences with Bluehost that cannot be ignored. 
Bluehost Complaint #1: Bluehost has an Overcrowded Parent Company
The author of this negative review of Bluehost said that in their experience with them, they dealt with endless technical problems. 
They believe the technical problems are partly due to Bluehost being part of a large company called EIG (now known as "Newfold Digital") which oversees over 80 companies, packing a lot of the websites under one server. This overstuffing can slow websites down and cause a lot of functional issues.
Bluehost was adopted by EIG in 2010 however, and its reviews still remain mostly positive even after 13+ years of new leadership.
Also, in uptime tests (meaning the time when your website is accessible & functional), Bluehost regularly scores an average of 99.9% which is deemed to be pretty reliable.
In my personal experience with Bluehost, I cannot recall a time when my website has been down for a disruptively long time (besides the time when I broke it, of course). And network issues happen to even the best of companies.
I can only speak for myself when I say that in the almost 3 years I've had with Bluehost, I have not experienced uncharacteristically long and unaddressed network issues with them.
Bluehost Complaint #2: Poor Customer Service
The author of this negative review also complains that the customer service is rude, unhelpful, and incompetent which I very clearly disagree with. I think that with a big company, you're bound to run into a few bad eggs but those few bad eggs don't define the whole company.
This review was written a month after I first started my blog so maybe times have changed and better customer service training has been in place since I started up with Bluehost.  
In my experience, customer service has been top-notch. I have called countless times over minor inconveniences (and major ones too) and they've gone above and beyond to assist me.
Bluehost Complaint #3: Slow Loading Time
Another Bluehost complaint is that the loading time is slow and after some research, it looks like this tends to be the consensus. 
Across many different speed tests run by different companies, Bluehost always seems to find itself on the slower side.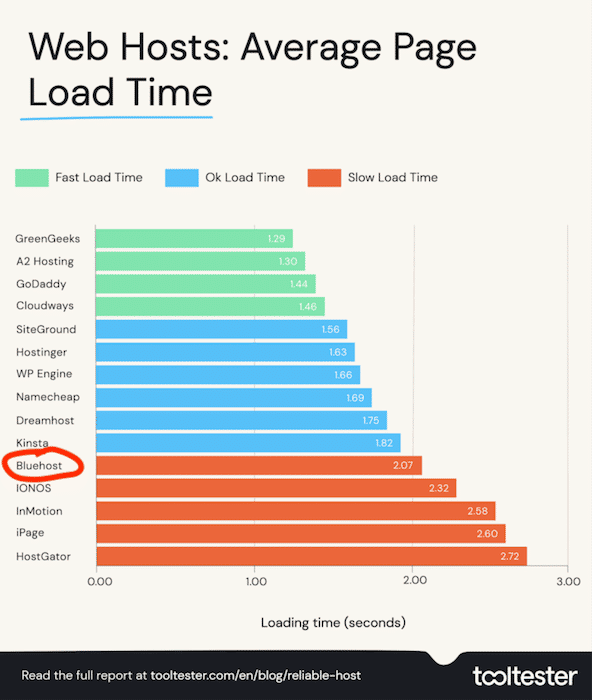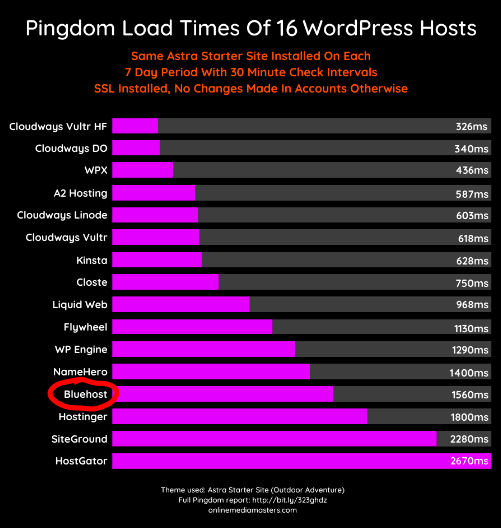 Truthfully, my website was a bit slow when I first tested it with Google PageSpeed Insights and GTMetrix (slow website = fewer pageviews), but I chose to invest in WP Rocket and it has put me in the green and set my mind at ease since. 

Once you become advanced with a blog, Bluehost may feel too elementary for you and you may yearn for better speed and maybe a less-crowded network but as a beginner, Bluehost is the best place to get your feet wet. 
Bluehost Complaint #4: Oversaturated Affiliate Market; Dishonest Advertising
Another negative review of Bluehost cosigns the complaints of the earlier review and adds some.
This review argues that the reason why Bluehost is so widely recommended is because of its robust affiliate program. Meaning that people promote Bluehost because they get money when others purchase Bluehost through their link.
This implies that whether Bluehost is good or not, people will hype it up for the sake of getting affiliate commissions.
Yet, at the very end of the post, the author recommends another Web Host with which he's an affiliate. The previous article that also had a bad experience with Bluehost is also an affiliate of another hosting company as well. 
Most articles that recommend one site host over another have something to gain from their recommendation. A lot of blogs make a good deal of their money from affiliate income.
I'm going to be upfront: I AM an affiliate for Bluehost and it's not meant to be a secret or anything sneaky. However, I do not want you to buy Bluehost unless it's actually valuable and suitable for what you want to do with your website.
I bought Bluehost through an affiliate link and I'm benefitting from it. Affiliate programs and relationships are optimally a win-win-win situation.
The company gets more exposure, the promoter gets income, and the customer gets a product that solves their problem.
As I type, I'm using Bluehost now and I've had no issues with it. I've used no other web host besides Bluehost and I've not lacked anything. That's why I have chosen to promote it. And that's probably why many others have chosen to promote it as well. Otherwise, they would be affiliates for other hosting companies like the authors of the two negative reviews I covered.
Bluehost isn't the only hosting company with an affiliate program, their program is just highly effective.
Bluehost Complaint #5: No Backup for Basic Plan
The final argument of the second negative review also argues that with the Bluehost basic plan, you don't get any backup. Welp – I am living proof that while they don't promise backup, they still got your back anyways.
Bluehost's basic plan is accustomed to and built for beginners. Your biggest screw-ups are probably not a surprise to them. And though a backup with the basic plan isn't as frequent as more-expensive plans, they're still backups available for you (hopefully).
---
Get a FREE 36-page eBook about earning passive income through affiliate marketing!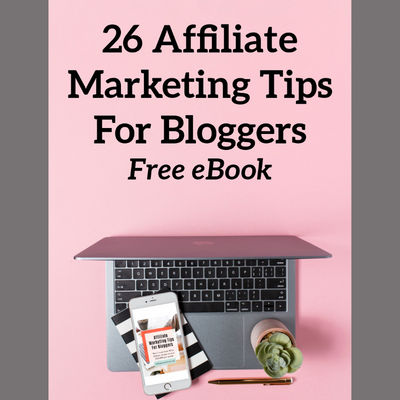 ---
Bluehost Review 2023 | Here Are the Facts
You will see people rave about Bluehost, and you'll see them hate it but here are the facts:
It's consistently voted as one of the cheapest host websites:
Who SHOULD NOT get Bluehost?
If you are already well versed in programming, plan on running a complex eCommerce store, and already have tens of thousands of visitors to your site, then Bluehost may not be the best option for you. 
You may want to look into more advanced web hosting options.
Who SHOULD get Bluehost?
Bluehost is a good, cheap, jumping-off ground for beginners in blogging who want to test the waters. It's perfect for people who are just starting their blogging journey and simply want a good foundation with which they can potentially make passive income. 
If you're hesitant about jumping full force into starting a profitable blog, if you've never built a website before, or if your business is small and just starting out, Bluehost was created for you. 
And if you change your mind, they have a 30-day refund option. 
If after a year as a blogger, you decide it's not for you, you can just cancel your Bluehost subscription before it renews and find something else that works for you. Bluehost offers a low, affordable price, AND a free domain for your first year as a website owner to allow you the freedom to test the waters first. 
If you're in that boat, Bluehost was created for you.
---
Bluehost Basic Price
The price of Bluehost is super affordable, especially for the first year. Right now, the prices are so low, you can buy your whole first year of hosting and a domain name on the basic plan for just $33 (as low as $2.75/month)!
You get to purchase online property that has the potential to make you a millionaire for as low as $33!
Current Prices: View the pricing table here!
---
The Secret to a Lower Price…
I'm gonna let you in on a little secret to get an even LOWER price. If you're a first-time customer with Bluehost, they have something called an exit offer on their checkout page. This means that if you're on the checkout page and you move your cursor toward the top bar as if you're exiting the page, you'll receive a pop-up with Bluehost offering you an even better deal.
I'll illustrate below: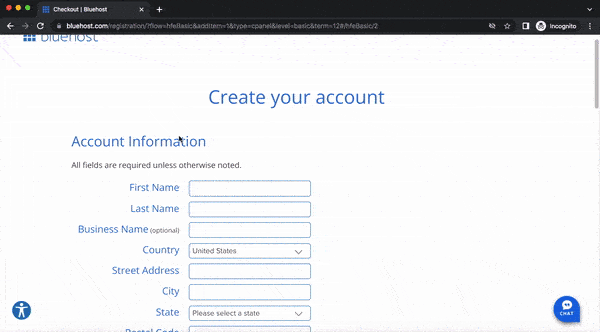 I can't guarantee that they'll always have an exit offer but you can try it out and see if can you get the best deal possible.
Click Here for the Pricing Table & Find Hidden Deals
---
After your first year with Bluehost though, the price of your website does increase usually to over $100 because everything that was free on the entry deal is no longer free. 
When I first bought my website, I did so for $71 which still isn't too bad (I didn't wait for any deals and paid for domain protection (I'll elaborate more below)) but if you get it now, you get it for less than half that price. My second year cost $118 which is over $40 more but still not bad for a whole year of hosting.
With the cheap introductory price, you get a year to figure out if you want to continue your blogging journey and if you want to continue it with Bluehost. 
You don't need hundreds of thousands of dollars to start a profitable business. Just skip two fast-food meals and you've got yourself a website.
See if you can still get up to 73% off today!
---
This course teaches you everything you need to know about affiliate marketing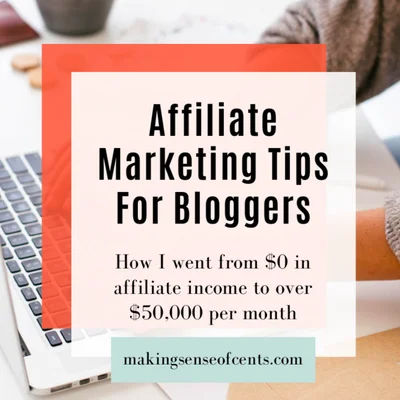 ---
Bluehost Walkthrough Tutorial
Because it's been almost 3 years since I bought Bluehost, I decided to go through the process again to see if it really is as easy as I remember. 
Below is a 2-minute video I put together walking through the process of creating a Bluehost account again.
I also outline the step-by-step process with screenshots below.
Click here to start at the Bluehost home page and follow along with me to start your website with Bluehost.
---
The first thing you will need to do is go to the main Bluehost website.
From there, scroll down the page a bit to get to the "Get Started" Button.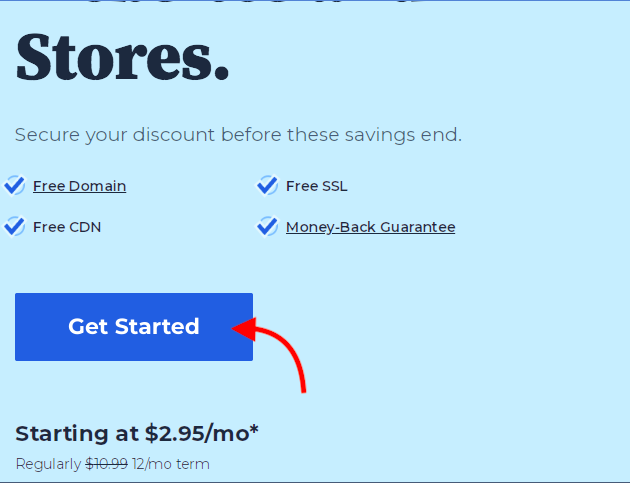 Clicking on the "Get Started" button brings you to the Price Tier Table where you can compare Bluehost's different plans. 
For beginners, the 12-month basic plan is by far the best option with the most bang for your buck. If you purchase right now you can get up to 73% off on your hosting website. 
For beginners, I would recommend selecting the basic plan. That's the route that I took and I only paid $33.
After selecting the best plan for your blog, you'll be taken to a page where you can select your domain name. 
Your domain name is whatever is put before ".com" for your website. For example, the domain name for this website is inmyopinionflicks which forms the URL inmyopinionflicks.com.
If you don't already have a domain name in mind for your blog, you can search under the "create a new domain" input box on the left-hand side of the image above. Bluehost will let you know if your domain is already taken by someone else or if it's available. 
Click here to see if your Domain Name is available!
If you don't have anything in mind yet, don't fret, click the area below that says you'll create your domain name later and you'll get free credit with Bluehost so you don't have to pay an extra dime to claim your domain name at a later time. 
I would, however, recommend choosing your domain name beforehand as it'll make the website process smoother. If you do choose to pick your domain name later, I'll detail in the next section how you can do that.
After choosing or postponing your domain name selection, you will be taken to the account and checkout page. 
Here, you will just fill out your account information and select whatever add-ons you may want for your site. 
None of the add-ons are necessary, especially for your first year, but you can research deeper into the benefit of each add-on and see if it's worth the additional price for you. 
I personally bought the domain privacy and protection but under this special deal they're having now, it was offered for free!
---
Pretend to exit to see if any deals pop up!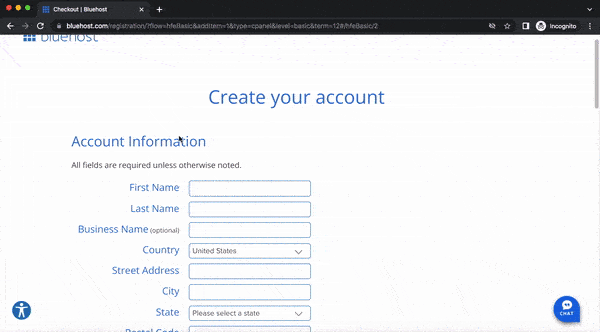 ---
After entering your account information, your preferred add-ons, and your payment information, you'll be taken to this success screen if all goes well. 
Wooohooo!!!! You just made a priceless investment. It's time to start working to make the most of that payment. 
Next, click on the "Create Your Account" button.
You'll be taken to a page with your domain name or temporary domain name filled in, so then you can create a password for your account. 
Pick a strong password and then select, "Create Account."
Bluehost will then offer you the option of a FREE consultation with a Bluehost Website professional to help you get your site off the ground.
Again, if you feel overwhelmed jumping into a new website and not knowing much about computer programming, Bluehost has professionals ready to help you for FREE.
Then you can answer a few questions so Bluehost can determine how they can help you with your site or you can skip them all and get started on your blogging journey. 
After a few more subjective questions, you can then pick a free design theme for your website or skip that for later as well. You can always come back to the questions about your website name, tagline, and theme later.
And finally, you'll be taken to your Bluehost Portal where your WordPress site is contained. 
It should look something like this:
To edit your website and start posting, you just need to go to the home tab on the left sidebar of the Bluehost portal and then select, "Log into WordPress."
You'll then be met with the classic, very popular, and familiar WordPress Admin Dashboard.
None of the changes you make to your site will be viewable by the public until you change your site status from "coming soon" to "live" which you can simply do by clicking on the "Site Status" box and updating the settings. 
How To Change Your Bluehost Domain Name
To change your domain name, once you've chosen one, you will have to contact Bluehost customer service to make your chosen domain name your primary domain name.
I wanted to see how easy it was to change my primary domain name so I tried out Bluehost customer service once again to see if it would work. I called at 6:46 PM EST on January 24th, 2023, and after two minutes of the automated voice asking what I needed and ensuring I was truly the owner of the website, it let me know that the call volume was high.
I settled in prepared to wait a few minutes. Not kidding you, 10 seconds later, I was on the phone with someone. The call lasted 10 minutes in total and most of that time was just him setting the process in motion while I waited.
Once again, seamless customer service. I don't know which Bluehost other people are calling.
And they sent me this email as evidence that my domain name was changed:

And BAM, there you go. Now you can focus on the things you actually enjoy spending time on like reviewing movies, traveling, pottery, or whatever you decide to blog about. 
And literally any issues you run into with your website whether WordPress-related, database-related, or stupid mistake related, you can count on Bluehost to assist you 24/7 as they have for me. 
Common Questions
Is Bluehost a good hosting company?
Yes, Bluehost is a good hosting company. They offer exceptional customer service, quality hosting conditions, and super affordable beginner prices that make website ownership easy.
Is Bluehost good for small businesses?
Depending on what your small business is, Bluehost is often a fine choice. If you're running an e-commerce store, you may want something quicker, less crowded, and more robust.
Bluehost does have e-commerce plans available, I just can't attest to how great it stacks up against other options in terms of price, uptime, and speed.
If you just need a website to host information about a brick-and-mortar store then Bluehost can do that job just fine.
If your small business is your blog and you're making money off of affiliate links and ads then Bluehost is a great place to start.
Is Bluehost good for blogging?
Bluehost is good for blogging and highly recommended for beginner bloggers. If your blog is larger, more advanced, and has a lot of traffic you may want to consider a more expensive host company.
What are the benefits of Bluehost?
The benefits of Bluehost are that it allows beginners the opportunity to start a profitable website with low financial risk and 24/7 customer support.
What are Bluehost's pros and cons?
Pros of Bluehost:
Really cheap first year
30-day refund guarantee if you change your mind
Access to website cpanel (files), professional emails, and security for website
24/7 customer support with multiple modes of contact (over the phone, online chat, and email)
Largely positive customer reviews
Very popular (meaning more accountability for performance)
Lots of programs and backups in place to support non-tech website owners
Under-promises and over-delivers
Cons of Bluehost:
Slower website speed in comparison to some top competitors
May not be ideal for larger, more complex websites
Mixed reception on customer service
---
---
In Conclusion…
As a non-programmer, on my first blog, having only ever paid for hosting with Bluehost – I have never felt the need to jump ship to any other hosting company. Bluehost has offered me exceptional customer service, quality hosting service, and a price that allows me the grace to slowly grow my business without going broke first.
If you're getting drowned in all of the hosting options out there, you want to begin your first or second profitable blog, and you don't even know where to start, don't hesitate any longer. Start with Bluehost.
Take the leap.
And if you fall, I trust Bluehost will have your back just like they had mine.
---
Read Next: How to Make the Perfect Blog With These 2 Courses
---
Have any more questions or reservations about Bluehost? Let me know in the comments below!
And be sure to subscribe for the latest blog updates (form in sidebar).
Peace, love, and lots of popcorn,
IMO