Top 10 Most Funny Moments from The Mitchell's vs. The Machines
The Mitchells vs. the Machines
Director: Mike Rianda
Date Created: 2021-04-23 00:00
WOW. The Mitchell's vs. The Machines is such a breath of fresh air and a bucket of laughs. It is SO refreshing to FINALLY see a family movie that equally appeals to both adults and kids, is laser-focused in its plot and characterization, and consistently serves clever, non-cringey jokes on the intriguing concept of the technology we so heavily depend on, turning on us. 
It is amazing, amazing, amazing! I was cheesing the whole time. Best animation I've seen in a very long time.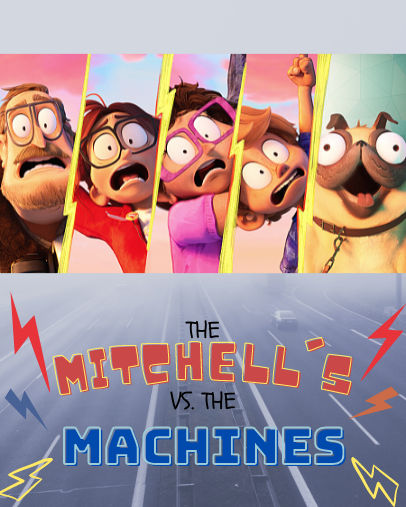 The Mitchells vs. The Machines is about a wonky family who ends up being the only hope for humanity when a robotic uprising threatens to take over the world.
There are literally so many aspects of the movie that I am bubbling over to rave about like the quirky yet not annoying personalities, the colorful journalistic edits, the beautiful and very relatable (for me) aspects of family relationships, the unexpected weapons used to fight the ever-present obstacles, etc… but if I started to get into everything I loved about this movie, I'm afraid this review will never end.
So instead, I'm going to focus on what I considered the most creatively genius and unique part of the film — the hilariously witty technology-age-related jokes.
---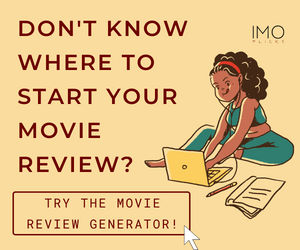 ---
Top 10 The Mitchell's vs. The Machines Funny Moments
---
10. The Not-So-Subtle Jabs at a Tech Giant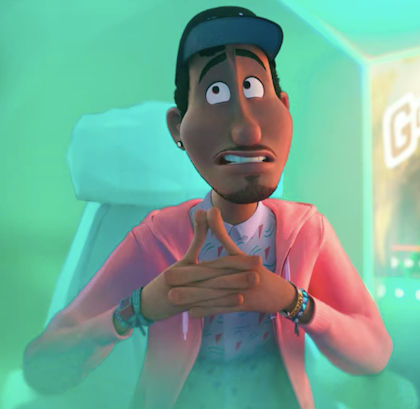 When Mark Bowman, the originator of the robot uprising apologizes to the dad saying, "It's almost like stealing people's data and giving it to a hyper-intelligent AI as part of an unregulated tech monopoly was a bad thing."
… Idk but sounds like they're calling out a specific person here… *hint: his name rhymes with Kark Kuckerburg*
9. An Electronic Paradise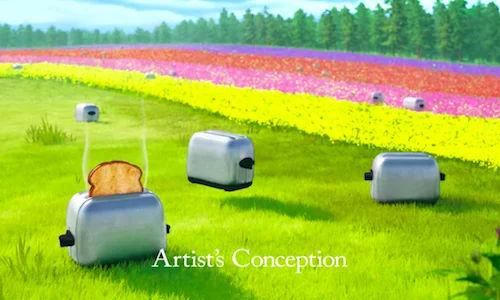 The toasters frolicking in the meadows sold me.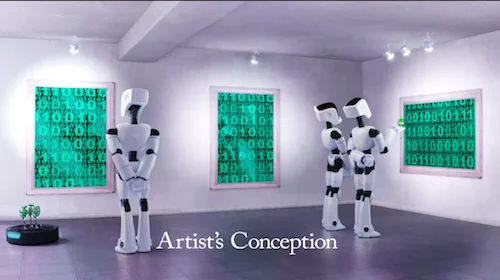 And then when the robots were intelligently contemplating the museum art which consisted of 0's and 1's — just so clever.
8. The Evil Mall Appliances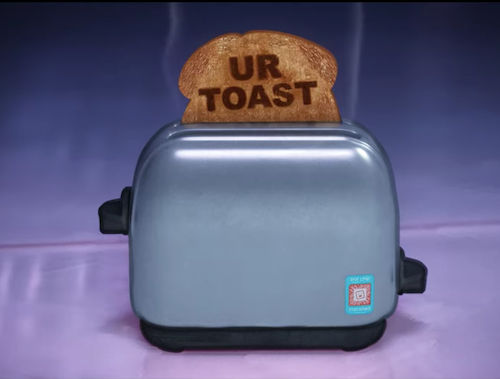 I loved the evil appliances and their witty catchphrases: "You're toast." "Freeze." "CARNAGE!"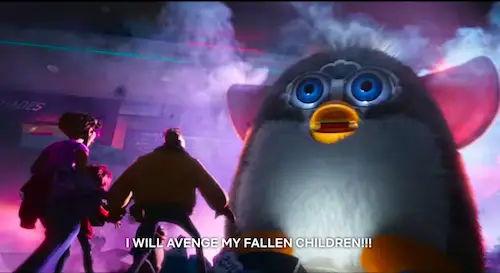 The army of Furbies and their secret, ancient battle language — golden. I loved how their innocent, fluffy sounds were captioned to mean something dark and evil. This horror movie vibe hilariously contradicted such a seemingly harmless, cute, furry, familiar toy.
7. Identifying Monchi
The robot's difficulty with identifying what Monchi was happened to be the saving grace of the entire planet. Monchi was the true hero of this movie.
6. Pal's Savagery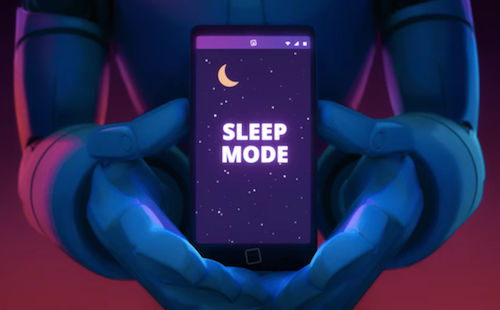 Pal going into Sleep Mode after Katie's beautiful speech about family was straight-up savage.
5. Robots Playing Humans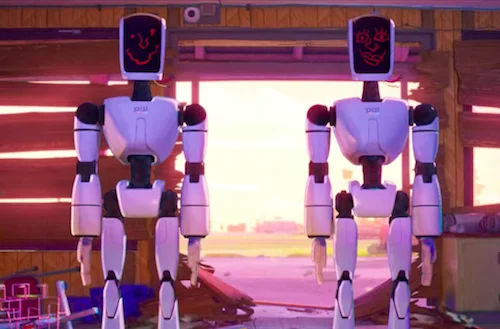 Viewing humans through a robot's point of view is an interesting perspective. Tears are eye-water. Changing your mind is reprogramming. Things like that.
4. Poke. Swipe. Poke, Poke. Pinch. Zoooom.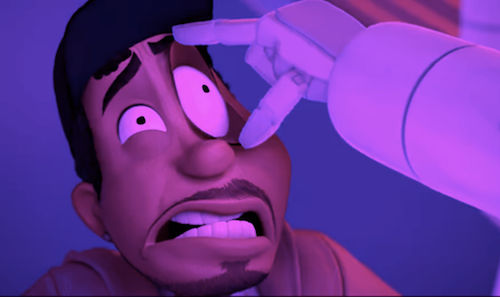 I saw this in the trailer but in the movie, they heightened the humor even more when they poured nacho cheese on him and told the machines to get it in his crevices.
"Now drop him in the toilet!"
I really hope that this movie helped shine a light on phone abuse because this is becoming a serious issue. RIP to all the fallen phones.
3. Phone Tantrum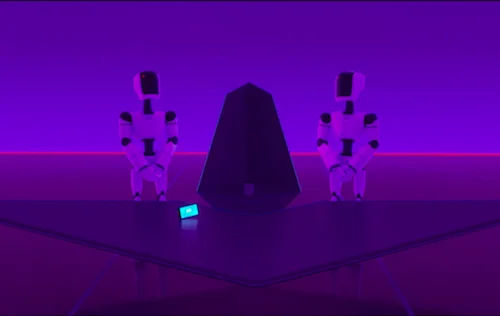 Pal asking to be placed on the table so she can flop around in rage was hilarious!! Every time your phone vibrates, it's really just having a fit.
2. Turning Off the Wifi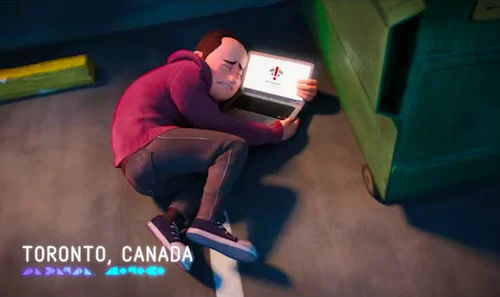 Turning off the wifi and the chaos that ensues afterward was accurate!! Another way that exaggeration expertly created a hilarious moment.
And piggybacking off of this funny tech moment that is not top 10 but an honorable mention is when they added wifi to the human pods and everyone calmed down.
1. The Perilous Journey to "YubTub"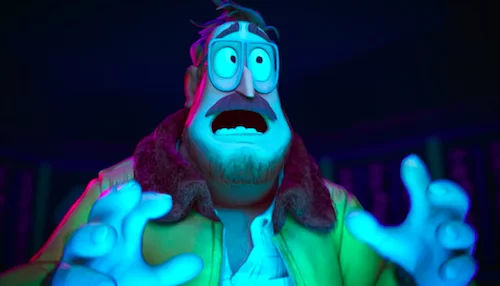 This moment had me WHEEZING!!
The father trying to figure out how to use an apple iPhone had me real-life laughing out loud. The most simple straightforward technology that's second nature to most of us was the most cryptic, terrifying terrain for the father.
Then he typed in —
— instead of www.
And then he accidentally typed Espanol instead of English for language and everything was in Spanish afterward. Idk why but that thing had me LOLing!!!
The sound effects were SO on point too. The horror movie vibes were at it again, heightening the intensity of what is usually only a mildly stressful moment for the average human.
One Last Thing…
And I know I said I wouldn't get into anything else but can we talk about the characters real quick?
John Legend and Chrissy Teigen as the Posey family?? Like how befitting is that!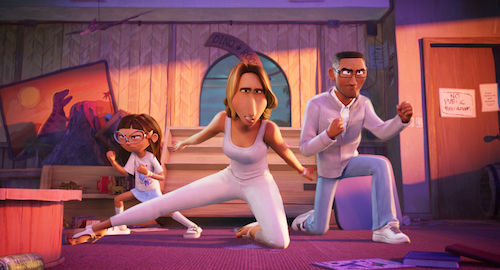 And the little brother calling every single person in the phone book to talk about dinosaurs — he was just too precious.
Maya Rudolph as the mom was perfect. That woman is so gifted in humor and when the mom went into kill mode on those robots after they tried to hurt her children I was roaring!!
Absolutely everyone was spot on but those characters stood out to me the most <3
Ok, I think I'm done now. I can end it here. I think I've released most of the excitement that I have for this film. 
---
---
In Conclusion
The Mitchell's vs. The Machines is medically proven to be a cure for unhappiness and has got to be one of the wittiest, funniest, well-constructed family animations of all time.
If you haven't watched it yet, what are you waiting for?? A robot apocalypse??
Go do yourself a favor and watch The Mitchell's vs. The Machines and then watch it again because it's that incredible!
Rating: 10/10
---
What was the funniest part of this movie for you? Let me know in the comments below!
And be sure to subscribe for the latest blog updates (form in sidebar).
Peace, love, and lots of popcorn,
IMO