The Best (Only) 2 Black Cowboy Movies on Netflix
Before the year 2021, the only prominent representation of black cowboys was when Lil Nas X released "Old Town Road" in 2019. Now, black cowboys are becoming more of a regular occurrence with black people reclaiming their history and widening the lens through which we view history. 
Black Cowboy Movies on Netflix Right Now!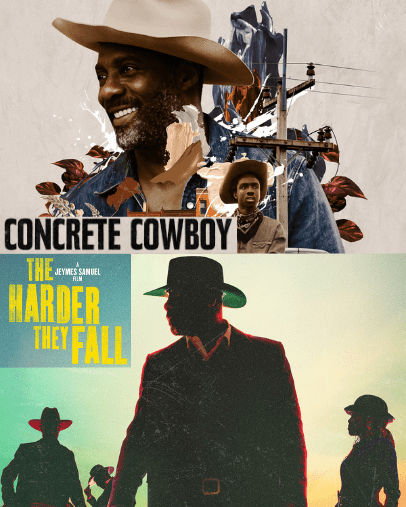 In 2021, two prominent black cowboy movies were released to Netflix: Concrete Cowboy in April and The Harder They Fall in October.
Both stories, although tonally different, shared this same pursuit of representing black people in a setting they're often not seen in – western cowboy movies. 
Oh, and they also shared Idris Elba who impressively transformed into exactly what he needed to be for each role. 
Before getting into the two black cowboy movies on Netflix, I do want to touch on why such a category is so unique in the first place. 
Brief History of Black Cowboys
Historically, the cowboy life is represented by a stereotypical rough and tough, independent white man on a horse, with a cowboy hat, boots to match, and a gun. This white man goes around sticking his nose in new towns and fighting pesky "Indians."
Just the visual of a man on a horse is a powerful image. You've harnessed the power of a creature larger and more powerful than a human. You stand a few feet taller than a 6-foot-man on his tippy toes and run faster than Usain Bolt ever could. 
This image of power and freedom was reserved for the white man for a very long time although historically, black people were no strangers to cowboy life. 
It's estimated that for every four cowboys, one of them was black.
After the Emancipation Proclamation freed the slaves, the skills of black workers were still in very high demand, especially in cattle-infested Texas. Ranchers needed people skilled in transporting cattle to northern states where cows were scarce. This is where a lot of black cowboys stepped in alongside the traditional white cowboy to get the job done. 
Being a cowboy back in the day was a highly respected position and I would argue that it still gets good press today. Kids love dressing up as cowboys and western movies starring the lone ranger are still all the rage.
Black Western Movies and the YeeHaw Agenda
The YeeHaw agenda is a term coined by Bri Malandro in 2018. In an interview with the Today show, Malandro states that "The Yee-Haw Agenda is the reclamation of Black cowboys in history. It's letting America know that Black cowboys were here and they're still here." 
Basically, the Yee-Haw agenda is a pop culture movement that elevates the image of black people embracing cowboy culture. Whether it be creating folksy, country music like "The Git Up" by Blanco Brown and Beyoncé's song "Daddy Lessons." 
Or whether it be donning a cowboy hat and cowboy boots like Texas-native Meg Thee Stallion. 
The most visible figures in black culture today are reclaiming the fact that when it comes to cowboys, Black people were there too. Black people are not exempt from that aspect of history. 
Black Cowboy Movies on Netflix: Concrete Cowboy
Concrete Cowboy follows a rebellious teen named Cole who is sent to live with his father after being expelled from school. His father is part of a cowboy crew on the streets of modern-day Philadelphia, struggling to keep their horses and land from the threat of gentrification. Pulled in both directions of a dope-selling friend and his distant cowboy father, Cole must choose a path for his life. 
Concrete Cowboy was far more sentimental than I expected. With the word "cowboy" in the title, you would expect rugged behavior, excessive shootouts, lassos, and superhuman reflexes. However, this film approached cowboy life from a much more modern, realistic point of view. It would be classified as a contemporary Western. 
Surprisingly, modern-day black cowboys do still exist and a lot of people are oblivious to this fact because of the sheer lack of widespread representation. 
Concrete Cowboy opened my eyes to a world of black cowboy-hood that I never knew existed and presented a strong argument for making the cowboy life more accessible to everyone. 
It highlighted the benefits of a strong-knit community, connecting with nature, and keeping people busy with character-building activities rather than gang-banging and such. 
This film feels authentic and each non-American actor effectively masked their English accents. (How are British people SO convincing with other English accents??) The rugged streets of Philadelphia, the seamless dialogue, and the raw human emotion portrayed through the screen effectively tugged at my heartstrings. The characters felt like real people with complex layers, motivations, and desires. It felt like you truly got to know them at their core. 
Concrete Cowboy was surprisingly a really beautiful, touching film.
Rating: 9/10
---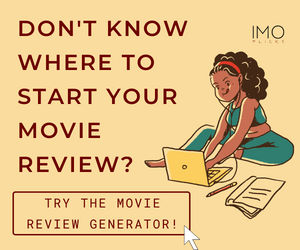 ---
Black Cowboy Movies on Netflix: The Harder They Fall
The Harder They Fall is the new black cowboy movie on Netflix and it is the epitome of the classic wild western film. 
In The Harder They Fall, Nat Love seeks revenge on Rufus Buck, a gang leader responsible for a tragic moment in Love's childhood. After a lifetime of searching and waiting for the right moment, Love pursues Buck to avenge his wrongdoings once and for all.
The Harder They Fall is a bright, energetic, spectacle to behold. There are a lot of bold colors, bold camera choices, enticing action scenes, and rhythmically upbeat music.
However — the story doesn't pull you in.
You don't build a deeper understanding of characters, the humor falls flat, the acting/accents are distractingly shaky, and after a while, the excitement of the setting wears off leaving you with a thin, unengaging plot. 
This movie is built on a lot of common western features: avenge the man who hurt you, tough cowboy crews, and lethal shootouts. Obviously, the set was artificial but it stayed true to the world-building of a western and created a curated feel.
What this movie does differently is that it consisted of not one, but TWO all-black cowboy gangs with cutthroat men AND women who were real-life cowboys (although the story was fictional), and their race wasn't used as a struggle point or obstacle in the story. 
There is also a bit of a twist at the end of the movie that threw me for a loop and semi-redeemed the whole plot. When you have a predictable plot and then throw in a curveball – I like that ish.
Without the curveball at the end, I found this movie to be quite mediocre, but considering the big picture, The Harder They Fall was not too bad.
Rating: 6.5/10
---
So, if you're looking for 2021's best Black Cowboy Films…
Definitely give The Harder They Fall and Concrete Cowboy a try just for the novelty of it. They modernize a historical concept and bring a buried memory back to life. 
Being released in the same year, both movies do a great job of approaching the Western genre from different perspectives and carving out their own space within it. 
The Harder the Fall is definitely more eye-catching and big picture-esque with a thinner plotline and shallow character development. Concrete Cowboy on the other hand is more intimate, with robust characters, and a well-rounded plot. Both movies, however, understood the assignment of the YeeHaw Agenda.
They both stand their ground on the large Netflix platform refusing to allow Black American history to be muted.
---
Links to the New Black Western Movies:
Watch Concrete Cowboy on Netflix!
Watch The Harder They Fall on Netflix!
---
---
What did you think of these black cowboy movies on Netflix? Let me know in the comments below!
And be sure to subscribe for the latest blog updates (form in sidebar).
Peace, love, and lots of popcorn,
IMO
---